Advanced Cellular Silver (ACS) 200® Extra Strength
Posted by Anna Jones on 11 April 2013 01:27 PM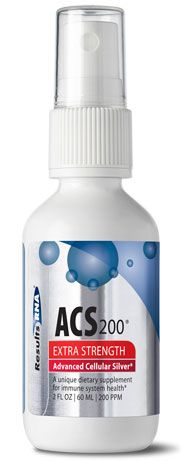 Modern evidence prescribes Advanced Cellular Silver as a leading antimicrobial
Protect your immune system with Advanced Cellular Silver 200® Extra Strength, which can kill a massive array of pathogenic microorganisms, naked viruses, as well as funghi, without damaging any human tissue.
Support your immune system with Advanced Cellular Silver 200® Extra Strength intraoral spray, a newly improved formula designed to protect against a broad spectrum of antimicrobial including Borrelia burgdoferi, MRSA and candida albicans.
Get real success with superior silver which is powered by patented silver technology known as STERIPLEX® Ultra which has now been EPA approved for killing anthrax spores.
Proven to be extremely safe and also practitioner endorsed in over 15 countries, ACS 200® Extra Strength works by providing 200 parts per million silver molecules which are uniquely energised when suspended in 'wetter water'® a medium for transporting micronutrients. Surface tension is 43% lower which enables the silver to rapidly penetrate through biological systems.
Studies show that Advanced Cellular Silver 200® kills hundreds of times faster and can destroy microorganisms within minutes compared to other forms of colloidal silver.
ACS 200® Extra Strength is available in 2oz and 4oz intra-oral sprays.
SUPPLEMENT FACTS
Serving Size

5 sprays; 175 mcg cellular silver per serving



Other Ingredient

Nano Distilled Water





DIRECTIONS:
Take 5 sprays by mouth, 2-3 times daily. For a higher dose, take 10 sprays by mouth, 4 times daily.
FOR BEST RESULTS:
Take ACS 200® Extra Strength and ACZ nano ® Extra Strength daily to maintain optimal health and total body detoxification.



PURITY AND QUALITY GUARANTEED:
ACS 200® Extra Strength is produced under strict GMP manufacturing controls in conformance with guidelines for dietary supplements set forth in USP XXVII. For purity and quality, ACS 200 ® Extra Strength contains no preservatives, no alcohol, no artificial coloring or flavoring.
BUY ACS 200® EXTRA STRENGTH
---